Thread Rating:
New guy, just purchased first Goldwing (1984 Aspencade)
insignia100
Member


Posts: 8
Joined: Oct 2014 Location: Tucson, AZ Bike: 1984 GL1200A
Hey guys, just wanted to introduce myself. I'm Chris from Tucson, AZ (new transplant to the Sonoran desert) and just picked up my first GW, a 1984 Aspencade. It is currently a project bike (my primary ride is a Bandit 1200). I replaced the fork seals and installed Progressive springs today, and still have the carbs to go through. I'll probably be replacing the shocks as well.
Lots of little things that need done but things seem to be progressing pretty well so far!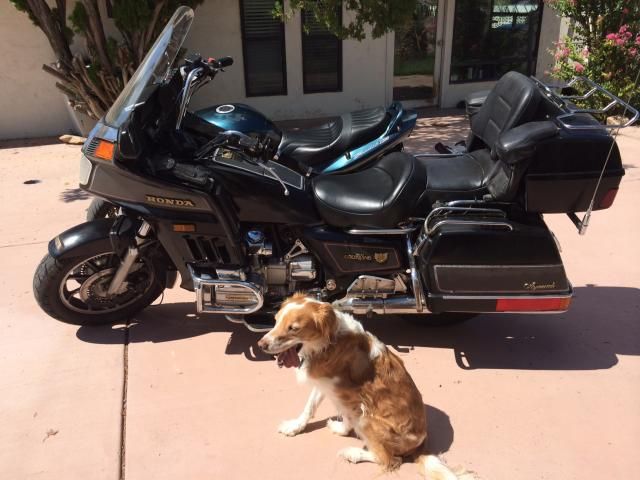 Poorboy
Alternator conversion wizard


Posts: 72
Joined: Jan 2013 Location: Alabama, U.S.A. Bike: numerous
Welcome to the site Chris. Unless you know how long it has been since the timing belts were changed you should change them. Poorboy
insignia100
Member


Posts: 8
Joined: Oct 2014 Location: Tucson, AZ Bike: 1984 GL1200A
Oops, yep, forgot to mention that. Two brand new timing belts are sitting on my workbench right now as a matter of fact.
85GL1200I
Super Moderator


Posts: 1,266
Joined: Dec 2006 Location: Johnstown, Pennsylvania Bike: 1985 Gl1200I Blue
Great looking bike, welcome.....
A rainy day off beats a sunny day at work any time..................
jkrijt
Member


Posts: 75
Joined: Dec 2007 Location: The Netherlands Bike: 1986 GL1200 Aspencade
Welcome to the site.
Your bike looks nice. You are lucky that is does not have all the Christmas Tree lights you see on some bikes so your wiring should not be messed with too much ;-)
Check the alternator wiith a voltmeter. Make sure it charges +/- 14 volt when the bike is running. If not, you have an expensive repair........
Solder the connector to the alternator if it is not already done.
Jan Krijtenburg, a Dutch Winger
My bikes: A GL1200 Aspencade and a Honda CB400T
Homepage:
http://jkrijt.home.xs4all.nl/start/index.shtml
insignia100
Member


Posts: 8
Joined: Oct 2014 Location: Tucson, AZ Bike: 1984 GL1200A
Thanks for the warm welcome everyone.
jkrijt: I'm well aware of the alternator issues with these bikes and the soldering mod is definitely on my (long) list of things to do. I'm sure I'll be undertaking the Poorboy alternator conversion at some point as well. I'm resolved to NOT remove the engine to replace a defective part with another defective part, and luckily I think mods like that give these bikes a bit of charm.
Today changed the timing belts, which turned out to be much easier than expected. The thermostat switch is buggered so I'll need to replace or repair that. I'll also go ahead and replace all the radiator hoses, etc while the radiator is off the bike.
jaycojman43
Member


Posts: 113
Joined: Mar 2010 Location: north west ohio Bike: 1984 Aspencade
Welcome to the site. The bike looks great, I have the same bike. How many miles on yours? mine has 110,000 miles
insignia100
Member


Posts: 8
Joined: Oct 2014 Location: Tucson, AZ Bike: 1984 GL1200A
Just shy of 40,000. Hoping to put many more on it once I get it running.
triwing
Member


Posts: 6
Joined: Oct 2012 Location: Bike:
Welcome to the site.Nice looking scoot,suspension upgrade front & rear is a must. Rear shocks can be upgraded to Progressives with spring & damper replacement in stock cans,save a bunch & get the same shock.Belts,water pump will need replaced if not done,every one of mine needed them,don't forget tires. Alternator is not a big deal,replace it,clutch spring,get rid of damper plate,replace with 2 metal plates,N G W tell's you how & why.Starter rebuild while motor is out & any bad clutch plates,this will get you started & you will have fun, Good Luck Triwing
trike lady
Member


Posts: 51
Joined: Jul 2013 Location: Butler, PA Bike: 1983 GL650I Silverwing Interstate, Wineberry
Hello and welcome to the forum.
Nice looking Wing, congrats.
Life's uncertain, eat dessert first. :D
#10 10-30-2014, 11:38 PM,
steve84
Member


Posts: 7
Joined: Oct 2013 Location: eufaula ok Bike: 1984 aspencade tan/ brown
great looking 84. enjoy the forum
#11 11-02-2014, 05:44 PM,
Users browsing this thread: 1 Guest(s)