ASPENAKED checking in for the first time.
Well, here I am the the new guy. I fell in love with the 1200 about a year ago. Another site convinced me to 'Go Naked!' so I did. I bought a basket case 1984 GL1200 Aspencade for $500 (with my wife's blessing) and never looked back. Here's what I have so far:1) Ditched ALL THE FAIRINGS, BAGS, TRUNK, etc. 2)Modified the front fender, 3)Installed Fat Boy headlight with handbuilt nacelle, 4)Replaced handlebars with CB500's, 5)Replaced faux tank with handbuilt modified Harley tanks(narrowed 3" and stretched), 6)Recovered Corbin seat with custom sissy bar, 7)Widened Harley Fatbob rear fender to clear 170/15" tire, 8)Modified swingarm to clear new rear tire,8)LED taillight, 9)Honda Civic alternator mounted IN THE CENTER of the frame, 10)Rebuilt all the hydrualics, 11)Installed ElectraGlide mufflers, 12)Made sheetmetal side covers. I am working on a single 2 Barrel Rochester carb and manifold right now. Still working on an idea for my dash/gauges. I know I borrowed a lot from the HD crowd but by no means is my GL1200N (Naked) a Harley look-a-like. My project philosophy is Maximum benefit from Minimum dollars. I will have about $3500 in it when I finish. I Look forward to a long stay here if you'll have me. Take care.
roscoepc
Super Moderator


Posts: 2,015
Joined: Dec 2006 Location: Marion, Va Bike: 1985 Limited Edition
Welcome to the Site!! It sounds like you're projecting like who'da thought it!!
hock: Ya got any Pic's?? Especially of your alternator mount?
1985 Limited Edition
Keener
Super Moderator


Posts: 1,143
Joined: Dec 2008 Location: Calgary, AB, Canada Bike: 1984 Aspencade
Welcome to the site. Sure would like to see some pictures.
Ian
Remember, it's the journey, not the destination, that matters
.
Tropicalsuns
Administrator


Posts: 1,334
Joined: Nov 2012 Location: Las Vegas Bike: 1984 Interstate
WELCOME!!!!

Posting pics here is easy!
Thanks for the heads up. I will get busy with my camera so you can let me know if I pass muster. So far the most tedious has been seperating the wiring. I am anxious to work on the manifold and carb set-up. Funny thing, I was a member of the NGW (Naked Gold Wings), but I got banned by the site server. The administrator thinks it was my Aspenaked monikor . I was glad to find you guys. I hope to be a good fit. Talk to you soon.
Granpah
Expert


Posts: 922
Joined: Jun 2009 Location: St. Louis, MO Bike: 1985 Aspencade (tan/brown)
Welcome Aspenaked, :YMHUG:

Can't wait to see the baby pictures!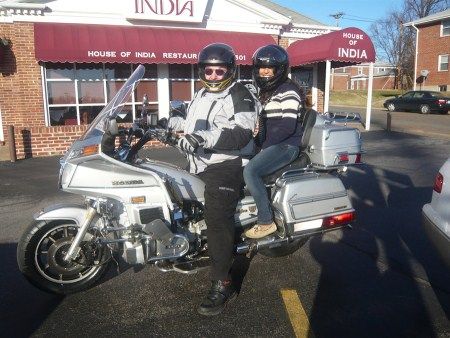 " ... If you have an idea and I have an idea and we exchange these ideas, then each of us will have two ideas." ~ George Bernard Shaw (1856-1950)
bluewing
Super Moderator


Posts: 2,709
Joined: Jan 2007 Location: Bike:
Welcome to the site, good to have you here.
Ride safe have fun and enjoy. Lane
1985 Aspencade
2002 Vulcan
admin
Administrator


Posts: 7,880
Joined: Jan 2006 Location: Leamington, Ontario Bike: 1984 Aspencade/yellow with black trim
Hello and welcome. I am really looking forward to seeing your pictures. Sounds like you've done an amazing job on your bike.
Ed (Vic) Belanger - 1954-2015
Founder of gl1200goldwings.com


Welcome Aspenaked! Sounds like a pile of work into your bike so far, looking forward to seeing it!
Users browsing this thread: 1 Guest(s)