Greetings from Central California
Greetings from the Sierra Nevada foothills in Central CA. I've just returned to riding after too many years (who was it that talked me into stopping?) and am the proud owner of an '86A that, while not thrashed, has not had the TLC it deserves for many a year.

It has been a long 2 months of exploring and sorting out her ills, locating parts and trying to remember what order the parts came off in :roll: , but with the selfless help and sage advise from all of the posting on this incredible site, I'm almost there. Thank you all! :YMAPPLAUSE:

Clyde
roscoepc
Super Moderator


Posts: 2,015
Joined: Dec 2006 Location: Marion, Va Bike: 1985 Limited Edition
Welcome to the Site!! 8)
1985 Limited Edition
Keener
Super Moderator


Posts: 1,143
Joined: Dec 2008 Location: Calgary, AB, Canada Bike: 1984 Aspencade
Welcome to the site, clyde.
Ian
Remember, it's the journey, not the destination, that matters
.
bluewing
Super Moderator


Posts: 2,709
Joined: Jan 2007 Location: Bike:
Welcome to the site from Baltimore Ontario.
Ride safe have fun and enjoy. Lane
1985 Aspencade
2002 Vulcan
Welcome to the forum from the wet coast of Canada.
And another big welcome from BC Clyde, glad to have you aboard!
admin
Administrator


Posts: 7,880
Joined: Jan 2006 Location: Leamington, Ontario Bike: 1984 Aspencade/yellow with black trim
Welcome Clyde.
Ed (Vic) Belanger - 1954-2015
Founder of gl1200goldwings.com


Sgt Dave
Senior Member


Posts: 353
Joined: Jan 2007 Location: Canton Georgia USA Bike: 1984 Interstate, Pearl Siren Blue
Welcome to the forum Clyde from a former central coast resident. I lived in Salinas and Monterey California several years ago...born in Carmel actually. Now I am in north Georgia, I fled Cali in 1985 and never looked back...I visited several times, but never looked back.

I just did not want you to think everyone here is Canadian :lol:

Just kidding ya'll, just kidding :YMHUG:
Remember, No matter where you go...There you are!
Here is where I have ridden my 1984 GL1200I
I completed the lower 48 states in August 2009, riding the whole way with my Dad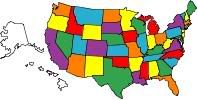 Users browsing this thread: 1 Guest(s)