Lemen
Senior Member


Posts: 378
Joined: Jul 2010 Location: Ireland Bike: 1984 GL1200 Aspencade
%%- %%- %%- Hello All.
Just joined up, Trying to find my way around. I have been trying to set up my map location but have given up as it keeps timing out.
I have a US Spec. 1984 Aspencade which I am doing a ground up rebuild on.
I have everything stripped, have had the frame and other parts powder coated.
I have a ton of pictures of the project. Anyone interested in seeing some?
admin
Administrator


Posts: 7,880
Joined: Jan 2006 Location: Leamington, Ontario Bike: 1984 Aspencade/yellow with black trim
Hello and welcome. Yes, we love pics so bring them on.
Ed (Vic) Belanger - 1954-2015
Founder of gl1200goldwings.com


bluewing
Super Moderator


Posts: 2,709
Joined: Jan 2007 Location: Bike:
Welcome from Baltimore Ontario, we would love to see some pics.
Ride safe have fun and enjoy. Lane
1985 Aspencade
2002 Vulcan
Hello from Starkville, Mississippi USA!

You have THE site for GL1200!

Welcome a-board.
Roleketu
Expert


Posts: 877
Joined: Nov 2009 Location: Bike:
Greetings from New England, Massachusetts that is.
Welcome from Southwest Arkansas, USA
Bryce
85 Interstate Wineberry Red
86 Interstate Denuim Blue Metalic
%%- Cead mile failte on New Hamsphire, USA! %%-
Sgt Dave
Senior Member


Posts: 353
Joined: Jan 2007 Location: Canton Georgia USA Bike: 1984 Interstate, Pearl Siren Blue
Hello lemen and welcome from north Georgia to THE web site for the Honda GL1200!!!

You will find the answers to most any question you will have regarding your 1200 project here. And a Vic said, we love pictures so post them as soon as possible
Remember, No matter where you go...There you are!
Here is where I have ridden my 1984 GL1200I
I completed the lower 48 states in August 2009, riding the whole way with my Dad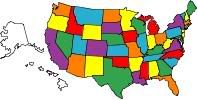 Welcome!

Russell from Kentucky
neoracer
Super Moderator


Posts: 2,570
Joined: Jul 2007 Location: Hancock,MD Bike: 87 Aspy,86 SEI,85 LTD
Welcome from MD/PA USA
Stop By for coffee any time your in the neighborhood \:d/ \:d/ \:d/

feel free to jump in the chatroom too
1987 Aspencade 129K
1986 SEI 93K
2014 Tri-Glide HD 17K

Hancock,MD
#10 07-25-2010, 01:27 PM,
Users browsing this thread: 1 Guest(s)