Thread Rating:
I just signed up on this site. About a month ago I sold my 1978 GL1000 that I had owned for 24 years. I could not stand it so I bought a 1985 Aspencade a couple of weeks ago and now I am much better. I also have a 2003 XR 650 and a 2005 YZ 450. I had a RD 400 (for 23 years) up until last week. I am located in Birmingham, Al. :d
Keener
Super Moderator


Posts: 1,143
Joined: Dec 2008 Location: Calgary, AB, Canada Bike: 1984 Aspencade
Welcome aboard, Racerjoe, from the West side of Canada.
Ian
Remember, it's the journey, not the destination, that matters
.
sparky65
Member


Posts: 187
Joined: Feb 2010 Location: Vancouver Island BC Canada Bike: 1985 GL1200 LTD
Welcome to the site RJ this is the place to hang out for info on GL1200's most of us ride 1200's because we like them so much. Good dependable Bikes, my choice of ride and like you I've ridden many Bikes.
Robert \:d/
firstwing85
Super Moderator


Posts: 397
Joined: Apr 2011 Location: Aldergrove BC Bike: 85 LTD Edition
Welcome from the Canadian West Coast,
I just bought my first wing just a couple weeks ago, also an 85.

Johan :YMAPPLAUSE:
Johan
neoracer
Super Moderator


Posts: 2,570
Joined: Jul 2007 Location: Hancock,MD Bike: 87 Aspy,86 SEI,85 LTD
welcome to the site from mid MD/PA area
1987 Aspencade 129K
1986 SEI 93K
2014 Tri-Glide HD 17K

Hancock,MD
bluewing
Super Moderator


Posts: 2,709
Joined: Jan 2007 Location: Bike:
Welcome to the site from Baltimore Ontario.
Ride safe have fun and enjoy. Lane
1985 Aspencade
2002 Vulcan
judd9571
Member


Posts: 81
Joined: Apr 2011 Location: Bike:
Welcome to the site from Buffalo, NY. I'm fairly new here too!
My family lives in Jacksonville, Alabama which if you don't know is near the Gadsden-Anniston area.
Do you ever go to the Barber Motorsports Park/museum? I love that place!
For those on the forum That don't know Barbers has a collection of almost 750 vintage and modern motorcycles and as well as a substantial collection of Lotus and other racecars. It is beautifully laid out in a 3 story "open" structure. If your ever in the Birmingham area it's a must see.
Heres a link to thier site with some pics.
http://barbermuseum.org/gallery.php
Anyways, welcome to the forum!
-Matt-
ccdouble
Senior Member


Posts: 287
Joined: Jul 2008 Location: N.E. Ohio Bike: 84 Aspencade
A big welcome from NE Ohio, Racerjoe!
Welcome to the forum from Southwest Arkansas.
Bryce
85 Interstate Wineberry Red
86 Interstate Denuim Blue Metalic
joe turner
Member


Posts: 223
Joined: Jun 2007 Location: Cave City Kentucky Bike: 1985 I silver
Welcome from Kentucky.
joe
#10 05-05-2011, 10:42 PM,
Sgt Dave
Senior Member


Posts: 353
Joined: Jan 2007 Location: Canton Georgia USA Bike: 1984 Interstate, Pearl Siren Blue
Hello from your neighbor in Georgia and welcome to THE site for anything GL1200 related
Remember, No matter where you go...There you are!
Here is where I have ridden my 1984 GL1200I
I completed the lower 48 states in August 2009, riding the whole way with my Dad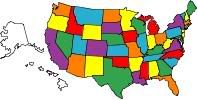 #11 05-08-2011, 09:25 AM,
Welcome from So.Cal.
The RD is on my top 5 list. :mrgreen:
#12 05-08-2011, 02:55 PM,
wpd210
Super Moderator


Posts: 156
Joined: Jan 2010 Location: Texas Bike: 1984 Interstate with Terraplane sidecar
Welcome from East Texas
#13 05-08-2011, 09:59 PM,
Users browsing this thread: 1 Guest(s)