Thread Rating:
Wow! A site that understands me!
Sgt Dave
Senior Member


Posts: 353
Joined: Jan 2007 Location: Canton Georgia USA Bike: 1984 Interstate, Pearl Siren Blue
Welcome from Georgia cyberchip. I see you live in South Carolina, just next door so to speak. I also have an 84 Interstate, mine is just broken in at 200K miles. If you get over near Atlanta sometime give me a shout and I'll try and meet you (work schedule permitting) to compare notes and rides.
Remember, No matter where you go...There you are!
Here is where I have ridden my 1984 GL1200I
I completed the lower 48 states in August 2009, riding the whole way with my Dad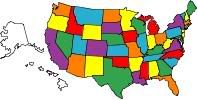 #11 07-26-2011, 01:13 AM,
Users browsing this thread: 1 Guest(s)