Philroy
Member


Posts: 29
Joined: Jul 2011 Location: Knoxville, Iowa Bike: 1985 LTD
Hi all,
I joined a few weeks ago and have been lurking for awhile.
I purchased a 1985 LTD from my neighbor last weekend. It has set for 11 years. Been working on it a little bit this week. Gas tank is nasty, soaking it in vinegar right now. I put a battery in it today, disconnected all the fuel lines to the pump, found out the pump is dead.
Thanks to this site, I have an E8000 pump on order!
Looking forward to getting the old girl running!
Am really enjoying this site.
Philroy
unionjack
Senior Member


Posts: 689
Joined: Sep 2009 Location: Bike:
Welcome Welcome.

11 years! WOW. I bet it will take a lot of work to get that one going, but if you do it will be well worth it.

The best way to clean out that old tank (and it had better be very clean before you use it) is to remove from the bike, fill with nuts and bolts and then wrap in towels ect. now suspend it inside a cement mixer with bungie cords and let it spin for a few hours. Now rinse it out well until it comes out clean.
'RIDE TO BE SEEN'
:d
Most common quote from a cager after
killing
a motorcyclist.
"I never saw him"
instead of
"I never looked for him"
.
firstwing85
Super Moderator


Posts: 397
Joined: Apr 2011 Location: Aldergrove BC Bike: 85 LTD Edition
welcome to the site from West Coast Canada,
I also bought a Ltd this spring and love the bike, I have been working on mine with a few issues.
I bought a new stator and installed it and what are the chances? it was defective, now waiting for a replacement.
should be here in a couple days..

if I can help in any way just ask and I will do what I can..
Johan
Sgt Dave
Senior Member


Posts: 353
Joined: Jan 2007 Location: Canton Georgia USA Bike: 1984 Interstate, Pearl Siren Blue
Hello and welcome aboard from Georgia. Plenty of great folks and good advise to be found here.
Remember, No matter where you go...There you are!
Here is where I have ridden my 1984 GL1200I
I completed the lower 48 states in August 2009, riding the whole way with my Dad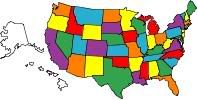 bluewing
Super Moderator


Posts: 2,709
Joined: Jan 2007 Location: Bike:
Welcome from Ontario Canada
Ride safe have fun and enjoy. Lane
1985 Aspencade
2002 Vulcan
Greetings from So. Cal.
11 yrs is a long time.....a lot of work....but not impossible.
This is the place for 1200 and a lot of expertise on LTD's and SEI's.....not me however.
These guys know most, if not all there is to know about our bikes.
Good Luck.
Fire1386
Member


Posts: 125
Joined: Jun 2010 Location: Bike:
Hello from Ohio..... :lol:
neoracer
Super Moderator


Posts: 2,570
Joined: Jul 2007 Location: Hancock,MD Bike: 87 Aspy,86 SEI,85 LTD
welcome from the midmd/pa area
1987 Aspencade 129K
1986 SEI 93K
2014 Tri-Glide HD 17K

Hancock,MD
DannoDeManno
Member


Posts: 56
Joined: May 2010 Location: Bike:
Welcome from Duluth, MN! I too, went through a phase of getting maintenance stuff caught up that was way overdue, but you'll feel it getting better and you'll have a sweet ride (of course, she always needs attention to feel properly loved, any lady does!)
Philroy
Member


Posts: 29
Joined: Jul 2011 Location: Knoxville, Iowa Bike: 1985 LTD
I have been working on the bike a little bit. Filled the fuel tank with vinegar for 2 days, vacuumed out and was disappointed at first. But getting the last bit out of the tank, my small vacuum tip hit the bottom of the tank, and the rust came right off! So I jabbed around awhile, then took my air nozzle and blew around inside and a lot of rust came off. And the tank looked fine underneath.
I got 6 more gallons of vinegar and did it again, for 3 days this time. Repeat and most rust gone. (97%)
The fuel pump was gonzo - locked up tight. Ordered a new one through Autozone and installed it. Put a fuel line in a clean gas can, turned the key on, the pump came to life, sucked up the gas, quit running and I hit the starter. The bike fired right up!
Yesterday and put gas in the tank, hooked up the fuel line and ran the bike in the garage long enough to get it up to operating temp and have the fan kick on!!!!
It idles a bit rough occaisionally, so I will start using the Seafoam.
Can't ride the bike yet as the front left brake is locked on and the rear master cylinder does absolutely nothing.
Enjoying working on it and looking forward to riding it (probably next spring).

When I figure out how to upload photos, I'll post some of the "before" shots. 8)
#10 09-18-2011, 03:14 PM,
Users browsing this thread: 1 Guest(s)