I just got a New to me GL1200I
wildhorse
Senior Member


Posts: 281
Joined: May 2012 Location: Davenport, Fl Bike: 1984 Aspencade
I've been thinking about signing up with them, Looks like a really interesting program and they are headquartered about 30 miles from me!
Vegetarian
: Old Indian word for Bad Hunter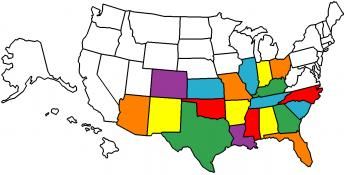 #31 06-28-2012, 03:36 PM,
paradise97402
Member


Posts: 39
Joined: Sep 2011 Location: Hillsboro, OR Bike: 1985 GL1200I, Wine
Well it's been a while since I updated what's been going on with the bike..Since I got the bike, the deal I was in with the PO was just a nightmare that finally settled on Nov 3rd, 2012..When I bought the bike..it was told that it just needed belts and a carb rebuild..well not the case, the guy bought it..tossed a battery in it and started the intake on fire! But I got all that fixed, and then there was a issue with no paperwork..so couldn't get a title for it. so I ended up taking another GW and doing a frame swap (anyone who has done that knows that's a HUGE amount of time) but all that got done. and then I took it for a ride..and the motor was shot!
So I got into another deal with him to use his motor until I could get mine rebuilt(He bought another GW..so this was a spare) but the cooling system was not working, it has sheared a oil pump shaft so no running water, he didn't care so he basically cooked the engine..but I got that all repaired, made the mistake of trusting him on the water pump he put in was good..well after another sheared shaft..nope!
So I took the motor back out, put a new shaft in, new water pump and got the fan working..and the bike ran pretty good..I rode it last season for about 750 miles, In Oct of this year I moved from Eugene to Hillsboro, OR and I have been trying to contact him for months to come and get his bike out of my shop..well he finally got in touch and it ended up with me pulling the motor out, shipping the parts bike and the repaired motor to him in Eugene.
Well this is now mid December, the motor is all but completed..it is sitting on the bench waiting for a few more small parts to get in then it can go back in the bike..I tore the motor down..replaced every bearing , Seal, Gasket, "O" Ring, Rings, Pistons, Pins, a few transmission parts that looked worn..new clutch (Barnett) Rick's Motorsports Electric stator and starter, new everything on the cooling system (again) sent the radiator out and had it cleaned, new hoses, thermostat, radiator cap, fan switch, temp sender, oil pressure switch. the motor was cleaned and soda blasted and re painted it..polished all the aluminum new Gates belts, replaced the belt tensioners. but I figured that I was in soo deep already, might as well see it to the end..but I am one that has a classic issue with never giving up no matter what the cost. ( my 1978 Yamaha XS750E same story) but that Goldwing is a great bike! I don't need the power of the 1500 or the 1800..but the older 1000 and 1100 are alittle too small when I have the trailer on.
But the great news in by the start of the 2013 season..the bike will be ready to run..for a long time, I am pretty anal about maint and up keep..And on the recommendation of a few other Goldwing owners..it has NGK Iridium plugs, and Amsoil in it.
And when it goes from the garage to the shop to have the motor put back in..I am going to be installing the J&M System to it as well as the XM Radio on it.
But next winter I am going to get the parts to put a electronic cruise control (Audiovox) on it, new seat and pull all the parts off and have them re chromed..and maybe even give it a new paint job.
Thank you to everyone here..for the advice, recommendations great tips and just being in a world that GL1200 owners can go and be apart of the bigger picture!
Paul
Hillsboro, Oregon
#32 12-15-2012, 08:04 AM,
paradise97402
Member


Posts: 39
Joined: Sep 2011 Location: Hillsboro, OR Bike: 1985 GL1200I, Wine
Well it has been started and the carbs all adjusted and sync'd and runs perfect! so now I will be starting the new season with a 0 mile motor..and all the headaches from the guy I bought it from is all in the past.
I decided to finish fixing some small things, since it is cold and raining here...with snow and ice (not great for riding) so I got the saddle bag lights converted, added a weather cover to the stereo, added an XM radio to it and am waiting for the driver back rest and cruise boards to get here..also I made the mistake of putting a duffle bag on the trunk rack and it now has some small cracks that I will fix, but I took some aluminum plate and reinforced that on the under side..so no more weight issues.
But the only thing from the original motor I used was the case, head castings, rockers boxes, the trans shafts and shifting drum..ohh and the rods and crank..but it took a while to source all the new internal parts and bearings. but 98% of the transmission was replaced with new parts, new pistons and rings..new valves, guides, cams, tappets, valve guides, valve seats were re done, new bearings on all the internal parts and output shaft, new oil pump and scavange pump, new primary chain and all the tensioner parts, I used one of the starter clutches I had..and I think that might have been a mistake, it has slipped a few times..but I hope that it just needs some miles on it?
but I also went ahead and changed out the swing arm bearings while I was into it...so the only thing left to re build is the final drive and the bike will be basicly be a new 2013 gl1200.
But I am working on changing all the lighting to LED..I do electronics design, so I am going with surface mount LED's and will be re doing the bag turn and stop so it will be lit all the way across (where the center reflector is) and soon new paint and have the parts re chromed.
But these are the board that are ordered
http://www.kuryakyn.com/Products/4294/Pr...ini-Boards
and this is the Utopia drivers back rest that will be here soon as well
http://www.utpr.com/goldwing.html
And I forgot to add a photo of the motor I just got finished rebuilding
2012-12-19 00.30.09.jpg
(Size: 49.54 KB / Downloads: 17)
Paul
Hillsboro, Oregon
#33 01-07-2013, 03:30 AM,
paradise97402
Member


Posts: 39
Joined: Sep 2011 Location: Hillsboro, OR Bike: 1985 GL1200I, Wine
So I have been working at another motor rebuild..this time it is going to be the motor that will go in once I do a trike set up..I found a new set of .25 over pistons and rings, so they are here as well as the rod bearings. I sent the heads out to be re surfaced and have new valve guides, clip and have the valve seats set up for the new valves. I was able to get the cams re worked, so those are ready. The new bearings are here for the trans, crank, shift drum, the output shaft and also some of the inner bearings like the one that is in the starter gear on the starter clutch..I also replaced the parts in that, so it is pretty much new now. But both oil pumps are done and ready top go, the front shift assy, as well as 2 of the new shift forks..one was close to spec.
But the case will be going to the machine shop to have the cylinders bored for the new pistons as soon as the main bearings get in.but I have in all the new seals (a few were difficult to find). Then it is the cooling system on the motor, I went ahead and re worked the intake, so I will have a spare. I think I enjoy building the 1200 goldwing motors more than any others... it is amazing even with 185,000 miles the majority of the internal parts were still within Honda's OEM specifications, That is just impressive! great designing. but once this one is finished, I will have a spare rebuilt motor with pretty low mileage on it.
I have also decided that I am going to put a sender into the top oil line and add a oil pressure gauge to the dash. so once I get that done I will post some photos of it.
But I went from having my bike with NO engine in November of 2012..to having two motors by June of this year!
Old pistons.jpg
(Size: 78.93 KB / Downloads: 16)
New Pistons.jpg
(Size: 49.93 KB / Downloads: 17)
New Seals.jpg
(Size: 57.31 KB / Downloads: 12)
New Rod Bearings.jpg
(Size: 45.68 KB / Downloads: 14)
Paul
Hillsboro, Oregon
#34 02-01-2013, 04:13 AM,
paradise97402
Member


Posts: 39
Joined: Sep 2011 Location: Hillsboro, OR Bike: 1985 GL1200I, Wine
Well the season has almost started for me here..took a 300 mile trip over the weekend and have been getting things ready for Rhody Days, in Florence, OR. And also bike sponsors has also sponsored us again this year..and well after last year it has saved a bunch..but like last year it involves a video that I need you guys to watch if you have the time..the product I got is a Extension Cord thats going to help with the tent set up..anyway take a look and let me know what you think.
http://youtu.be/VTjKH4PVJ9o
Thanks guys, and ride safe!
Paul
Hillsboro, Oregon
#35 04-22-2013, 11:48 PM,
bs175dths
Expert


Posts: 1,373
Joined: Jun 2010 Location: Sunny, Southern California Bike: 1984 Interstate
you wrote in an earlier post...'also I made the mistake of putting a duffle bag on the trunk rack and it now has some small cracks that I will fix, but I took some aluminum plate and reinforced that on the under side..so no more weight issues.'

I am curious as to where you put your aluminum plate.
I have an '84I and the trunk base has some severe cracking/breakage. I used the plastic plumbing adhesive recommended at this site (thanks) and was able to get down the road.
Eventually I bought the Honda metal bracket insert for the trunk and although that helped, it does not support the base past the last two bolt down points – eventually I replace my trunk with a same color code, low mileage from Ebay.
Before installing it, I took some light gage steel (something I could bend to shape) and made a support bracket for the rear part of the trunk base, using the four bolt points in the base, and the lock studs as my holding points.
SHE DON'T FLEX NO MORE!

So I just wanted to throw that out there, unless the rear section of the base, the part past the base hold points, is supported, the base is still going to flex and you may get breakage.

-Ride On
enjoying the view from the saddle....... due mainly to the people and information found within this site
#36 04-25-2013, 03:28 PM,
Users browsing this thread: 2 Guest(s)