Thread Rating:
Goldwing Newbie from Ontario Canada
Granpah
Expert


Posts: 922
Joined: Jun 2009 Location: St. Louis, MO Bike: 1985 Aspencade (tan/brown)
MagnAndy Wrote:Hi Granpah,

Thanks for the tip, maybe Santa will bring me the DVD for Christmas if I am a good enough boy! I actually find my Wing a lot easier to ride at low speeds than my Magna or my previous bikes. Although it is by far the biggest bike I have ever forked, it seems to have the lowest C of G and basically wants to stay upright at slow speeds.

Switching between the Wing and Magna day by day lets me enjoy the unique pleasures of each great bike.
In my case, about five years ago ... after not riding for 20-25 years (raising four kids
hock: , getting them through high school
hock: , getting them through college
hock: ), I checked the calender and looked in a mirror and said to myself: it's NOW or never. My LAST bike had been a Matchless 650cc, after a 500cc BSA, and going waaaaaay back, a Honda 305 dream (in 1962). Although I REALLY wanted a GL1200, I figured my reentry should be slower. So I bought an '85 Shadow vt500c (that this year I gave to my son ... a good professional mechanic), flunked the state's m'cycle driving test twice :oops: , then took and passed a safety class (automatic pass for state test). THEN I bought successively two GL1000s ('73 and '78) on which I learned to drive and drop a heavy bike; virtually gave them both to a young soldier stationed in Afghanistan ... on leave in Connecticut .... and THEN bought my present '85 GL1200 ... ready to ride confidently.
I agree with your: " ... lowest C of G and basically wants to stay upright at slow speeds."
Still, I hope you get "Ride Like A Pro V" for Christmas ... so be a good boy! :d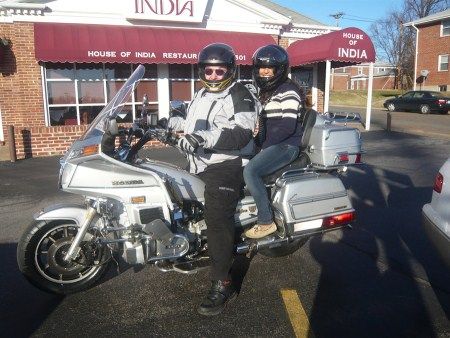 " ... If you have an idea and I have an idea and we exchange these ideas, then each of us will have two ideas." ~ George Bernard Shaw (1856-1950)
#22 11-30-2011, 12:35 AM,
Users browsing this thread: 1 Guest(s)