Thread Rating:
cj7jeep82
Member


Posts: 5
Joined: Oct 2011 Location: Bike:
I am a retired caterpillar machine now that I'm retired I have time to ride so found a 1985 goldwing machine special on Craiglist for $1000 it said the clutch was slipping. I do all my on repair so I thought I would fix it over the winter. got it home and check to over removed oil filter and cut about 1/4 of the filtering material out and put in a vice and squeeze the oil out of it that way you can see what material the filter has tripped this is something heavy equipment machine do to determine the type of problem they have (brass, clutch disk material, dirt. ) to my surprise there was no foreign material it so I am thanking the clutch may not be bad. I found I could open the bleed on the slave cylinder and I would get a squirt of fluid out of it. it was holding pressure in the slave cylinder and not relishing the clutch. Then the clutch would work find for about 4 or 5 time of Appling and relishing the clutch then it would slipp again . so I clean the master cylinder and found the return was plug. unplug it filled it with new fluid' Have been riding it now for about 2 mouths with no other problem.
neoracer
Super Moderator


Posts: 2,570
Joined: Jul 2007 Location: Hancock,MD Bike: 87 Aspy,86 SEI,85 LTD
welcome to the site from the mid md/pa area

nice to hear your diagnosis and repair of the clutch,sounds like you made a good purchase,like the color too
1987 Aspencade 129K
1986 SEI 93K
2014 Tri-Glide HD 17K

Hancock,MD
firstwing85
Super Moderator


Posts: 397
Joined: Apr 2011 Location: Aldergrove BC Bike: 85 LTD Edition
Welcome from Aldergrove BC.
looks like you got a great bike.. :d :d
Johan
bluewing
Super Moderator


Posts: 2,709
Joined: Jan 2007 Location: Bike:
Welcome from Baltimore Ontario. Nice looking bike.
Ride safe have fun and enjoy. Lane
1985 Aspencade
2002 Vulcan
Greetings from So. Cal.
Good find.
Love the 60 El Camino

Funny thing is those are three of my favorite things.
Classic Goldwings
Had a 69 El Camino & a 79 CJ5, had both for many years and never should have sold them.
Ezdoesit
Member


Posts: 21
Joined: Oct 2011 Location: Bike:
Welcome from Michigan.... :d
Ride to Live... Live to Ride....
Welcome from NE Ky :d
Ghost.President: G.M.M.C.C.
Member:Patriot Guard Riders
Fire1386
Member


Posts: 125
Joined: Jun 2010 Location: Bike:
Hello from Ohio.... :lol:
Sgt Dave
Senior Member


Posts: 353
Joined: Jan 2007 Location: Canton Georgia USA Bike: 1984 Interstate, Pearl Siren Blue
Welcome aboard from just north of Atlanta Georgia
Remember, No matter where you go...There you are!
Here is where I have ridden my 1984 GL1200I
I completed the lower 48 states in August 2009, riding the whole way with my Dad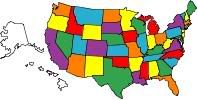 Roleketu
Expert


Posts: 877
Joined: Nov 2009 Location: Bike:
Greetings from Massachusetts.
#10 11-07-2011, 10:36 AM,
Users browsing this thread: 1 Guest(s)