Thread Rating:
Hello from Kentucky :d
Ghost.President: G.M.M.C.C.
Member:Patriot Guard Riders
#16 11-19-2011, 08:11 PM,
sheridat
Member


Posts: 87
Joined: Sep 2009 Location: Bike:
Hello for the UK.

I am very addicted to my Limited and to this site where everyone is very kind and will answer your questions with great patience.

I am slowly but surely reading my way through all the forums - very enjoyable - really!
#17 11-19-2011, 08:52 PM,
Granpah
Expert


Posts: 922
Joined: Jun 2009 Location: St. Louis, MO Bike: 1985 Aspencade (tan/brown)
Welcome from your neighboring state Missouri called the Show Me State 'cause when you cross that Mississippi River from the Land of Lincoln you've got to show that your wearing a helmet on your head. :lol: :lol:
"Show Me" anecdote: Many, many, years ago in St. Louis (University City, to be exact) when I rode a beautiful AJS Matchless 650cc, I had just finished adjusting the carbs in MY OWN DRIVEWAY, and was sitting on my bike up on its center stand, gunning the engine when I see flashing lights behind me.
A cop had stopped and was about to cite me for riding without a helmet. :oops: At first, I thought he was joking ... and pointed out that I was NOT in the roadway, WAS sitting in my own driveway facing the entrance to my garage ... and there was no reverse on the bike! He wasn't amused. Then he actually told me to show him my helmet. So I went inside the house and brought it out for him to see. Then he started writing a ticket and I asked him what that's for. He said it was a formal warning ... because since the helmet was inside my house, and the bike's engine was running it looked to him like I was
going
to ride without it!
hock: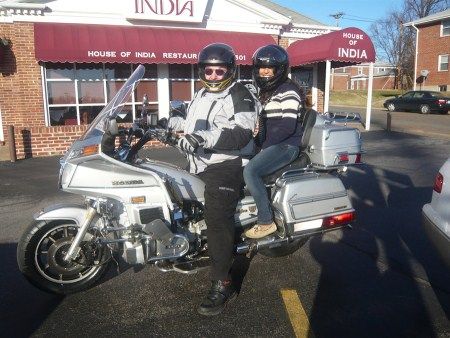 " ... If you have an idea and I have an idea and we exchange these ideas, then each of us will have two ideas." ~ George Bernard Shaw (1856-1950)
#18 11-20-2011, 01:23 AM,
sharp
Member


Posts: 28
Joined: Dec 2010 Location: Bike:
hi from the uk. :YMHUG:
#19 11-21-2011, 12:53 PM,
bs175dths
Expert


Posts: 1,373
Joined: Jun 2010 Location: Sunny, Southern California Bike: 1984 Interstate
I don't mean to hijack this thread but I used to deliver the daily paper every afternoon M-F and S-S mornings. One afternoon while out delivering with my younger brother who also had a route, I collided with my brother as he stopped early at a 4-way stop sign. Sliding off my seat and pogo sticking first on one foot then the other trying to keep from falling, my brother and I went through the intersection. A motorbike officer stopped us and gave us a ticket for not stopping at the stop sign. Since I was the older brother (and a wise a$$) I asked how the heck did we not stop? My brother stopped in front of me, I hit him and nearly walked my bike across the intersection!
The officer started to lecture us about this and that and bla bla bla bla when I interrupted him to ask, do you interpret the law or enforce the law? He said he was there to enforce the law. So I told him to stop doing the judges job and to do his job. I don't need a lecture from a police officer. IF I did something wrong, write me a ticket (I'm 12 and it will never be on my record) and let me get on with MY job!
To spite us, he continued the lecture and I have no idea what he was saying.
When we got home we showed our parents the tickets and my brother explained how he stopped and I hit him and how the ticket didn't make any sense.

For the next few days, we were on the lookout for that officer and when we would see him hiding, we would come to a stop, plant both feet on the ground, then pedal off.
Eventually we never saw him again. I guess he found some other kids he could bother.

Both our parents came with us on the court date. They tried to explain our side but the judge wanted to hear it from us, but took the word of the officer. We were under age so nothing ever came of it.

And the police department wonders why they have the reputation they have.
enjoying the view from the saddle....... due mainly to the people and information found within this site
#20 11-21-2011, 06:37 PM,
Users browsing this thread: 1 Guest(s)