Hello, I am new to Goldwing world.
Garycw
Member


Posts: 113
Joined: Jan 2012 Location: Ohio- Kentucky -Florida Bike: '85 aspy/ wineberry
Welcome F M Biker99,
I'm 1 1/2 hr away in Tampa.
I think that sort of thing happens to everyone sooner or later. You just got yours over with first. It does make you check & more aware of how easy it is to lose center of gravity. There's a couple vids on YouTube that shows best way to move with out power & how to pick up if laying down. I've had a few lessons learned. 1. If you get off right side , make sure kickstands down on left before letting go. 2. If your on one side & bike is leaning past no return on other side ... Let it go. 3. Watch out for gravel & sand in middle of intersections
#16 01-28-2012, 03:33 PM,
bluewing
Super Moderator


Posts: 2,709
Joined: Jan 2007 Location: Bike:
Welcome from Baltimore Ontario.
Ride safe have fun and enjoy. Lane
1985 Aspencade
2002 Vulcan
#17 01-28-2012, 06:47 PM,
Granpah
Expert


Posts: 922
Joined: Jun 2009 Location: St. Louis, MO Bike: 1985 Aspencade (tan/brown)
Привет и Приветствовать Альфред , не Миссури .

Вы прибыл к правильное место

Наилучшие пожелания

дедушка :d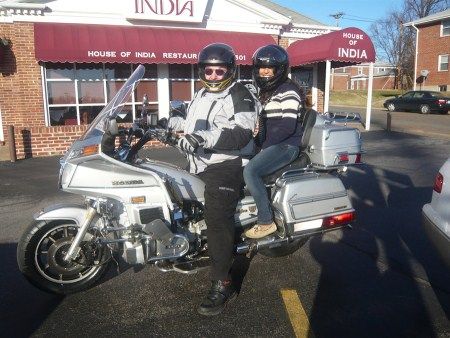 " ... If you have an idea and I have an idea and we exchange these ideas, then each of us will have two ideas." ~ George Bernard Shaw (1856-1950)
#18 02-01-2012, 01:51 AM,
Users browsing this thread: 1 Guest(s)