Thread Rating:
Fish
Member


Posts: 6
Joined: Feb 2012 Location: Bike:
Hello from Little Rock Ar. New to the Wing world. Got my Victory repoed last week B-( . A very good friend of mine is selling me his 84 Interstate for 1000( thankfully its tax time) he can no longer ride due to a hernia op and the bike weighs to much for him. I have Heard that I will never go back to anything else after riding this for awhile. Needs some restow work and bells and whistles but is still rideable. Hope you all will be of Great help.
Garycw
Member


Posts: 113
Joined: Jan 2012 Location: Ohio- Kentucky -Florida Bike: '85 aspy/ wineberry
Welcome Fish. Now is a great time to get the bike maintained before the warm weather. Sorry about your friend, but sounds like you got a GREAT deal. Post some pics sometime.
**==
Burnout
Senior Member


Posts: 336
Joined: Sep 2008 Location: Brewerton, NY Bike: 1996 ST1100
Welcome to the Forum! 8)

Good luck with the restoration!
Adam
'96 ST1100
Brewerton, NY
firstwing85
Super Moderator


Posts: 397
Joined: Apr 2011 Location: Aldergrove BC Bike: 85 LTD Edition
Welcome Fish from the west coast of Canada,
I was brand new to the wing world just last year at this time, anything that you need to do top your new wing can easily be done with the help here,
I can tell you from experience that you are at the right place for any help on a GL1200
if there is anything I can do to help I'll do the best I can.
we are all here to help each other and keep these great bikes going up and down the road..
Johan
bluewing
Super Moderator


Posts: 2,709
Joined: Jan 2007 Location: Bike:
Welcome from Baltimore Ontario. This is a great place to get GL1200 advice and help. You can also learn a lot from just reading the posts and also try the search on the top right of this screen for easy access to what you are looking for.
Ride safe have fun and enjoy. Lane
1985 Aspencade
2002 Vulcan
AzBowman
Member


Posts: 32
Joined: Feb 2012 Location: Bike:
Welcome fish,
You will find tons of useful information here and some lively debate all had in good fun enjoy your new to you Wing and what you have heard is correct once you go Wing you never go back! :d
1986 GL1200 Interstate Wineberry Red 96.5k miles and still counting. Update Solo now has 100,312 miles and going strong. I shall call her Solo. There is a story behind the name ask me and I'll tell ya.
bs175dths
Expert


Posts: 1,373
Joined: Jun 2010 Location: Sunny, Southern California Bike: 1984 Interstate
Welcome to the forum from sunny, Southern California.
I too have a 84I and she has 127K miles and still running very good.
If I can suggest, if you have any doubt about the age of a part or condition of fluid, change it. Get that peace of mind.
If you find your list is long, prioritize and then whittle away at the list.
As I work on mine, I find more I want to do. The list is getting shorter and the carefree miles are rolling by.
I commute with my Interstate and at times need to remind myself I am on two wheels and I am going TO work.
I love my bike and her capability.
May there be many happy miles in your collective futures.

-Ride On
enjoying the view from the saddle....... due mainly to the people and information found within this site
seabee
Member


Posts: 118
Joined: Jun 2011 Location: Michigan Bike: 1985 1200 Aspencade 112,000 miles
Welcome and congrats on the 'wing. And you heard right, once you start riding it you'll wonder why you waited so long to get one. They're one of the greatest bikes made. With good maintenance it'll last a long time. Enjoy the ride when the weather gets better.
Paul
CE1 Navy Seabees/RET
1981 to 2002
ASE Mechanic
Sgt Dave
Senior Member


Posts: 353
Joined: Jan 2007 Location: Canton Georgia USA Bike: 1984 Interstate, Pearl Siren Blue
Welcome aboard from Georgia, just north of Atlanta.

I have an 84 Interstate too, right at 200K miles and running like a top. :d
They like to be ridden regularly and not sit for long periods of time.
Change out the oil, radiator fulid, clutch and brake fluids unless you KNOW they are fairly fresh.
The 84 has some one year specific parts like the starter (85-87 starters won't swap) so know what you are getting when you need parts.
Check the three yellow wires going to the stator, you'll find all this on the forum.
Most important of all...ASK lots of questions. The folks here know a lot, there is an expert for every kind of problem you may encounter.
Well the really most important thing is ENJOY THAT WING!!
Remember, No matter where you go...There you are!
Here is where I have ridden my 1984 GL1200I
I completed the lower 48 states in August 2009, riding the whole way with my Dad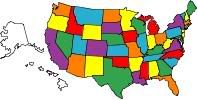 neoracer
Super Moderator


Posts: 2,570
Joined: Jul 2007 Location: Hancock,MD Bike: 87 Aspy,86 SEI,85 LTD
welcome from mid md/pa area
1987 Aspencade 129K
1986 SEI 93K
2014 Tri-Glide HD 17K

Hancock,MD
#10 02-29-2012, 01:14 PM,
wpd210
Super Moderator


Posts: 156
Joined: Jan 2010 Location: Texas Bike: 1984 Interstate with Terraplane sidecar
Welcome from East Texas.
#11 03-02-2012, 01:05 PM,
Users browsing this thread: 1 Guest(s)