COPIES OF ED SCOTT'S Honda, GL1200, 1984-1986: Manual
Granpah
Expert


Posts: 922
Joined: Jun 2009 Location: St. Louis, MO Bike: 1985 Aspencade (tan/brown)
Amazon.com
for
under $15
in good used condition.
IN MY OPINION, OUTSIDE OF THE VERY EXPENSIVE HONDA official GL1200 service manuals, this is the most complete and useful of the commercially published manuals. I have them all ... for maintaining my Honda GoldWing GL1200 Interstate motorcycle. Even though the "other two" manuals by
Clymer
or
Haynes
... each of which is "O.K." ... Ed Scott's "Honda, GL1200, 1984-1986: Service, repair, maintenance" is the BEST, hands down.
Not only are the step by step repair and maintenance instructions certain to (with excellent photos) lead to successful outcomes but the all important electrical wiring is ***
C
O
L
O
R
*** CODED. The color coding in the wiring diagrams matches the OEM color scheme making service and/or modification very much easier than trying to decipher the black and white wiring diagram in the Clymer or Haynes manuals ... or even
Honda's official GL1200 shop manual
.
[attachment=0]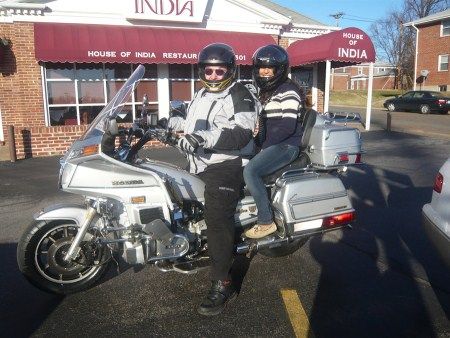 " ... If you have an idea and I have an idea and we exchange these ideas, then each of us will have two ideas." ~ George Bernard Shaw (1856-1950)
neoracer
Super Moderator


Posts: 2,570
Joined: Jul 2007 Location: Hancock,MD Bike: 87 Aspy,86 SEI,85 LTD
i'd have to add that a Electrical Troubleshooting Manual for the 85-87's is also one of the best things to have in anybody's library along with a Honda Service Manual
1987 Aspencade 129K
1986 SEI 93K
2014 Tri-Glide HD 17K

Hancock,MD
seabee
Member


Posts: 118
Joined: Jun 2011 Location: Michigan Bike: 1985 1200 Aspencade 112,000 miles
Sounds like a good deal. Might have to get them both.
Paul
CE1 Navy Seabees/RET
1981 to 2002
ASE Mechanic
Users browsing this thread: 1 Guest(s)